Archery! Rubber Band Guns!  Challenge Course!  S'mores!  Marshmallow Shooters or Catapults!  Paper Circuits!  Nature – Tree Cookie Necklaces!  Community Service Activity!  Tye Dye & Emotions – Pillowcases!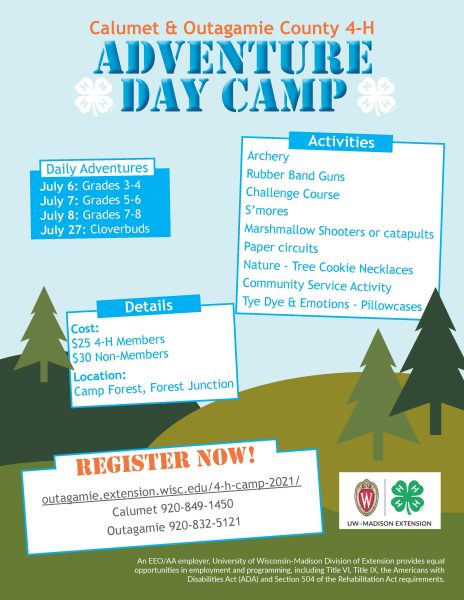 Registration closes Wednesday, July 7 at 4 pm!
What to Bring to Day Camp:
Mask & Hand Sanitizer
Bag Lunch

Layers appropriate for the weather of the day 

Refillable water bottle 

Insect repellent and sunscreen*  

Backpack/Bag (labeled)—to tote all items 

Close-toed shoes




**Dress your child for a day of outdoor fun. Please do not send your child's best clothing/shoes, as camp activities are outside and rugged. All items should be clearly labeled with your child's full name. 
What time is camp? Day camps will start with registration at 8am each day. Check-out starts at 4 pm and camp officially ends at 5pm. Campers may be picked up anytime between 4-5 pm. During that time youth will be participating in group games and camp songs until all youth are picked up. If your camper needs to leave earlier in the day, please notify our office prior to the day camp.
Snacks – All day camps will include one snack, which will be provided by the program. The snack will be prepackaged. To help us in planning, please make sure to list any allergies on the youth health form included in the Day Camp registration.
Lunch – We are asking that each camper bring a bagged lunch with them that does not need to be put in a refrigerator. We will keep the lunches indoors until we are ready to eat. Each youth should have their lunch labeled with their first and last name.
Water bottles – All youth are required to bring their own water bottle labeled with their first and last name. We will encourage campers to drink plenty of water throughout the day as we hope to have summer weather during these programs.
Bug spray & Sun screen – We encourage campers to come with bug spray and sunscreen applied before the start of camp. Youth may bring along their own bug spray and sunscreen; but the youth will also be responsible for applying more throughout the program. If a youth brings their own, please label it with their first and last name.
Health History Form – In order to keep your camper safe and healthy, we need a signed Health History form each year.
Transportation – Parents are responsible for transporting their youth to and from the camp location each day. Please designate an adult to pick up your child and have their name and contact information filled out on the registration form. The individual who picks up your child must show a picture ID to verify that it matches the name listed. If this information changes after you submit your registration, please contact our office to let us know of the change.
Pick-up – Campers can only be picked up by someone listed on their registration form and carrying their photo ID. If you need to add an authorized pick up or change a pick up location, camp needs that in writing. Campers must be checked out with a Camp Staff member at the designated table for Checking Out between 4-5 pm. If your camper needs to leave earlier in the day, please notify our office prior to the day camp.
Example Schedule – This is to help you see what a Day Camp may look like for the youth. Please know that the times below are just examples, but each date may have a different start and end time. 
8 am – Check-in & Ice Breakers
9 am – Welcome in Large Group
10 am – Activity 1
11 am – Activity 2
12 pm – Bagged Lunch
12:30 – Large Group Game
1 pm – Activity 3
2 pm – Activity 4
3 pm – Snack
3:30 pm – Large Group game
4 pm – Check-out starts
5 pm – Day Camp Over