What box interests you?  There are many to choose from!  Each box contains multiple educational activities which could be used as a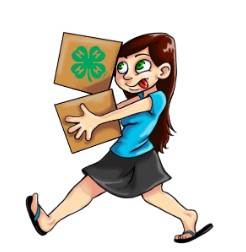 future fair project.  You may only order 1 of each $10 box unless otherwise indicated, but may order as many additional $5 boxes as you wish.  Supplies are limited!

Order online: https://bit.ly/4HFunBox 
Orders are due August 1.  You will receive an invoice for your order via email along with further pick up instructions.   
————————————————————————————————————————————————
PAINTER'S PALETTE BOX Cost $10 for first box and $5 for each additional box (additional box includes * items)
The Painter's Palette Box is a great introduction or intermediate kit for acrylic and watercolors.  Youth will learn some basic design and painting techniques, have the opportunity to create an acrylic painting and a watercolor painting as well as decorate a wooden birdhouse or box.  All ages.  Box includes:
Acrylic Paint Kit*

1 – 8×10 Canvas*

Wooden birdhouse or box (based on supply)*

Watercolor pencils or paints

Watercolor paper *

Choice of beginner 4-H Art Guide OR intermediate 4-H Art Guide

Links to beginner videos
————————————————————————————————————————————————
FAMILY CAMP BOX Cost $10 for first box; $5 for each additional box (additional box includes * items)
Summer camp was cancelled but here is an opportunity to pitch a tent in your own backyard and camp out with your family!  All ages.  Younger youth may need assistance.  This box contains multiple activities such as: 
Create a nature journal*

Make a friendship bracelet*

Make a Dream Catcher*

Create a water balloon slingshot (*not suitable for latex allergies)*

Choice of book:  Cooking on a Stick or the 4-H Camp Book

Family smores kit

Jiffy pop for the campfire*

Directions on how to turn your box into a solar oven!*

Make your own camp shirt – directions, fabric crayons & stencils (shirt not included)
 ———————————————————————————————————————————————-
AERO-CRAFT BOX Cost:  $10 for first box; $5 for each additional box (additional box includes * items)
Do you like to make paper airplanes and see how they fly?  With this box of materials, you will learn about various types of aircraft and how they move through the air. You will use some basic science, engineering and technology skills as you create various models and see how science is moving!  Kit includes most materials to make:
Hovercraft*

Glider*

Parachute*

Kite*

Styrofoam or Balsa Wood Glider*

4-H Flight Book
Some materials will be common household items you may already have.
——————————————————————————————————————————————-
CLOVERBUD BOX Cost:  $10 for each box (multiple boxes can be ordered)
This box features a variety of fun Cloverbud-level art projects.  Ideal for grades 5K-2.  Activities include:
Tie Dye Coffee Filter Monsters

Colored Salt Jars

Flowers using duct tape, tissue and pencil shavings

Make a mosaic 

Paper bag puppets

Cloverbuds Intro to 4-H Activities Bundle
 ————————————————————————————————————————————————–
MYSTERY BOX Cost: $10 for each box (1 box per family)
Are you looking for some new 4-H swag, but not sure where to start? Here is a good place. Each box has different and fun 4-H apparel and/or accessories. You never know what you are going to get. Keep it for yourself or give as a gift!
Possibilities:
4-H Cups

Pencils/ Pens

Stationary/stickers

4-H T-shirt

Cards

Pins

Stuffed animals

4-H fabric

4-H curriculum
 ————————————————————————————————————————————————–
PICK UP:  Pick up dates will be confirmed when all orders have been received. Details will be shared on your invoice. Boxes will be available for pick up at the main entrance of the Extension building on the specified date.   Please call the Extension Office (920) 832-5123 with any questions.
A SPECIAL THANK YOU to the Outagamie County 4-H Leaders' Association for helping to fund these boxes!  The average cost per box is $25.