4-H is a youth organization aiming to "enable" young people with skills to lead for a lifetime and to "make the best better."
Youth are members of community clubs where they meet monthly to learn life skills such as leadership, communication, teamwork, critical thinking, and dedication. 4-H members are actively involved in countless hours of community service each year.
Youth pick out projects that interest them when enrolling in 4-H. They might choose an animal project such as dairy, beef, or swine or maybe they
will decide to learn about woodworking, robotics, foods, birds, or mechanical sciences.
Outagamie County has a 4-H membership of over 400 youth who are guided by almost 200 volunteers.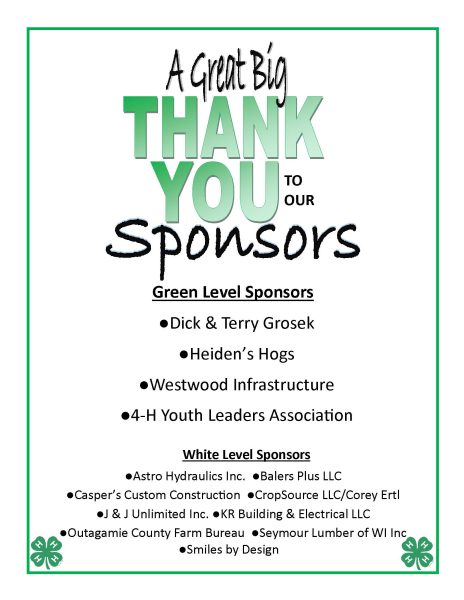 How Your Sponsorship Helps
The following is a list of some of the activities and events held to further develop these future leaders.
Music and Drama Festivals
Family Learning Day
Numerous county project meetings
Communication Arts Festival
Giant Pumpkin and Sunflower Contests
4-H Basketball Tournament
Educational Travel Experiences
Explore Wisconsin
Space Camp
WI 4-H and Youth Conference
Citizenship Washington Focus
American Spirit Experience
Opportunities for state 4-H teams
Sponsorship Levels
Friends of the Clover ($1-$99 donation)
Name printed in our 4-H Family Handbook
White Clover ($100 – $500 donation)
Name printed in our newsletter 6 times/year
Name printed in our 4-H Family Handbook
Green Clover ($501-$1000 donation)
Name/logo printed in our newsletter 6 times/year
Name/logo printed in our 4-H Family Handbook
Name listed on the Outagamie Co. 4-H webpage
Recognition on our Outagamie Co. 4-H Facebook page
Gold Clover (over $1000 donation)
Name/logo printed in our newsletter 6 times/year
Name/logo printed in our 4-H Family Handbook
Name listed on the Outagamie Co. 4-H webpage
Recognition on our Outagamie Co. 4-H Facebook page
Name/logo on a banner displayed at the Outagamie County Fair during the fair and at various 4-H events
4 tickets to the annual county 4-H Leaders Recognition Dinner