Stop into our office to pick up a kit that includes information about how to collect and send your soil sample in to be tested. You would work directly with VAS (formerly AgSource) to get results. For help interpreting lawn & garden samples, contact Kaitlin Bricco, Horticulture Educator at Kaitlin.Bricco@outagamie.org, for field samples contact Kevin Jarek, Crops and Soils Agent at Kevin.Jarek@wisc.edu.
Information about VAS can be found at the link below:
Examples of tests offered:
Field Sample
Lawn and Garden
Wildlife Food Plot
Testing is also available through the UW Soils Lab.
Download the instructions for how to take a soil sample in the link below.
Instructions for sampling Garden Soils and Turf pdf

Instructions on how to take a soil sample: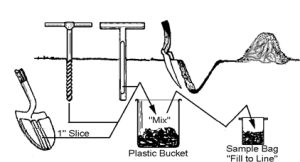 Take at least 10 soil cores and mix them together thoroughly.
Soil cores should be taken to the same depth that the roots grow. This means 5 to 7 inches for most gardens and turfgrass areas. For golf course putting greens and tees, 4 inches is more appropriate.
Place 1 to 2 cups of the well-mixed soil in a clean plastic bag or a soil testing bag from your county Extension office. Send your sample, along with the appropriate form to the desired lab.
Soil probes are available for a rental fee. (The fee can be applied to the cost of having your soil sample processed.) Payment can be made by credit card, cash or check.