You are viewing information about a past event.
Event Information
Date:
November 17th, 2021
Time:
5:00pm - 8:00pm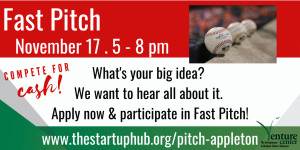 What's your big idea? We want to hear all about it. Will it change the world? Solve a problem? Meet a need? Apply now and participate in Fast Pitch! Presenters have 4 minutes for their fast pitch presentation and will have up to 2 minutes for Q & A. The top two winners from the contest will receive prize money – $1,000 cash prize for first place, $500 for second place.
The first place winner will then advance to the NEW Launch Alliance Regional Pitch event on December 2, where they will compete for additional funding for their business ideas and broad investor attention.
Prize money for first place at the regional event is $3,000 and $2,000 for second place.
Deadline to upload your pitch is October 26th. To learn more about Fast Pitch, the Pitch Prep Workshop and to apply, visit: https://thestartuphub.org/pitch-appleton/.
Event Location
Wisconsin Timber Rattlers – The Fox Den