The  45th Joy Conference was held on Saturday February 1, 2020.  The speakers were uplifting and the weather cooperated! We had people from Indiana, Illinois, Minnesota, Michigan and of course Wisconsin in attendance. As one participant wrote on the evaluation, "Joy is Priceless." When I am asked why I attend every year I respond, "The Joy Conference goes along with my yearly doctor's appointment for my physical health — and every year I schedule my appointment for my emotional/mental health — to be filled with Joy by attending the Joy Conference!"
2020 offered a diverse team of speakers.    
Jean Abbot , Minnesota, shared her life experience of her journey of misdiagnosis and how her sense of purpose along with a positive attitude helped her survive and thrive in her new found diagnosis.   

Learn more about Jean: Jean Abbott Website

Neil Ihde of Appleton — (yes Appleton Wisconsin!)  shared his research on finding the Joy Spreaders in our life– at home and at work –based on solid research, that we all need different types of people in our life. Joy Spreaders are important people not only to recognize on our teams,  but also figure out how to tap the energy to help us thrive!

Learn more about Neil: Neil Ihde Website

Dr. Danielle Hairston-Green of UW-Madison Extension shared lessons learned from being a teen mom raised by two police officers in a diverse community. She went to her high school prom nine months pregnant, attended community college and eventually pursued her Bachelor's degree, Master's Degree as well as earning a Ph.D.  Dr. Green's stories stemmed from her mother, a female, black, state patrol officer and all that has happened over the course of her life.

Learn more about Danielle: Danielle Harston Green Website
Take Your

Shoelaces

With You!
In 1984 I read an article in the Appleton Post Crescent about the Joy Conference – it sounded like an interesting day. I had never heard of the Joy Conference, but it intrigued me. I was teaching in public school at the time, but the information was valuable, and I incorporated the concepts into my teaching and coaching.  The message works for adults and kids of all ages! The article talked about one of the speakers, Marilyn Berger, who had talked about the value of always remembering the shoelaces in your life in a program entitled, "Take Your Shoelaces with You." Thirty-six years later, I do not have the newspaper article, but the concepts still apply! And eventually I came to really get to know the Joy Conference and all it had to offer!
S – Strengths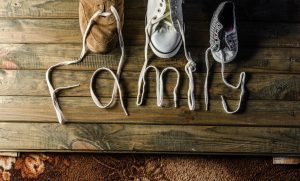 H – Humor
O – Optimism
E – Enthusiasm
L – Leadership
A – Action
C – Commitment
E – Energy
S—Service
From the Opening Remarks of the 45th Annual Joy Conference in Appleton Wisconsin. Karen Dickrell, Professor of Family Development, Human Development and Relationships.
Extension Outagamie appreciates the efforts of all that made this great day happen.